Over ambitiousness or a change of plan, whatever the catalyst, there are times when you need to put things on hold indefinitely, only in hope that you'll get back to them one day.
Speaking for myself, I've taken numerous U-turns in the past several years when it's come to working on the "Next Big Thing" for 2Do. Most of these have been due to external influences that I had no control over, while some had simply been a matter of "how much time will A take?" vs. "no, actually B will have a bigger impact". And yet, there were times when all the cool stuff needed to be put on hold while I focused on getting bugs squashed, only of course to potentially introduce new ones (am on it!).
Coming back to the subject, it's worth reiterating how big of a feature search is in 2Do. Saved searches (a.k.a Smart Lists) have been a much loved feature of the app, and for good reason too; with the help of extremely flexible and easy to combine built-in search keywords, you are able to mine, extract and group related information which would be otherwise scattered all over the place – or worse – hidden and forgotten out of sight. In addition, each list can have its own custom defined Focus Filter; a special search filter that you are able to toggle on and off at any time, in order to list only the tasks you wish to immediately focus on (thus the name).
For many users, combining the two filters has catered for most of their needs.
But what if you wanted to do the exact opposite, i.e. to selectively hide stuff from an existing list because they were no longer relevant? Such as that round the world trip you had planned for next month, but your colleague gets sacked and you're now the only one left that can fill in their boots. Or that weekly task of taking out the bins you now must put on hold, as you really did make it to the trip and not back for another 4 weeks? Surprisingly, there has never been a way to hide / pause / snooze / put-on-hold such tasks in 2Do before, at least not without several compromises. The closest thing that matches this behavior is a Scheduled task (i.e. a task with a future start date, which is kept hidden till it's time for it to be displayed), but that doesn't fit the bill here.
v3.8 (now available) for iOS is about to change this for good. You will now, for the first time ever, be able to pause and resume Tags on the fly! So how does this work? Take a look: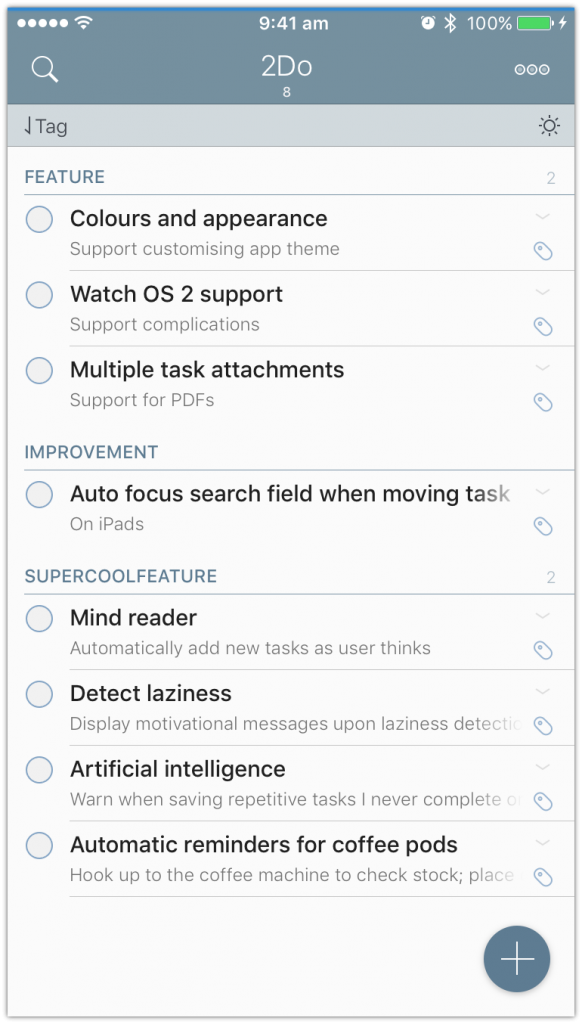 Here, the list shows a bunch of frequently requested features that I need to implement fairly soon. However, given current technological constraints, I realize much of this will simply have to wait. I don't want to lose track of these tasks though, nor archive them, nor turn them into yet another list only to mark it as hidden (remember those comprises I was talking about earlier?). In fact, I may even come back to review these again after publishing v3.8 just to see if I can squeeze a few into v3.9.
What to do… what to do. Not much if you're stuck with v3.7, but once you update to v3.8 (and Mac v2.2 to follow suit), you will be able to either assign these tasks an already paused tag or pause the currently used tag: supercoolfeature.

Simply swipe the task list to reveal the utility panel, swipe left on the tag you wish to pause and hit – you guessed it – Pause (you resume it the same way).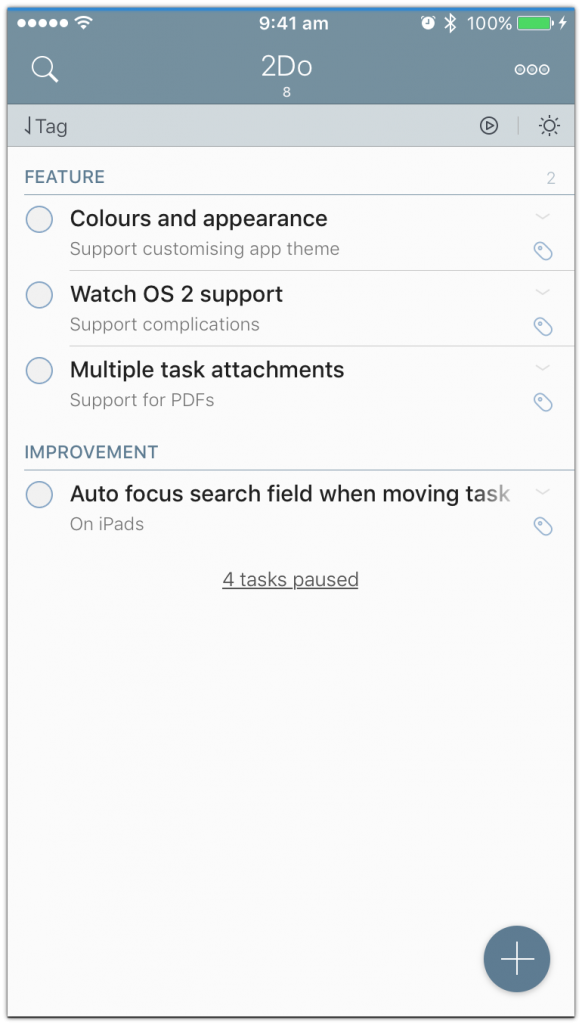 All related tasks automatically hide for you. You even get a neat little indicator on the sort bar that you can toggle to show / hide paused tasks. Presence of this indicator will suggest there are paused tasks in the selected list. This is really helpful because you won't need to resume each tag one by one only to see what's hidden. Perfect for weekly reviews!
In fact, since search will always find these hidden tasks, you can filter them out if you choose to do so,  by using a new built-in keyword: type: !paused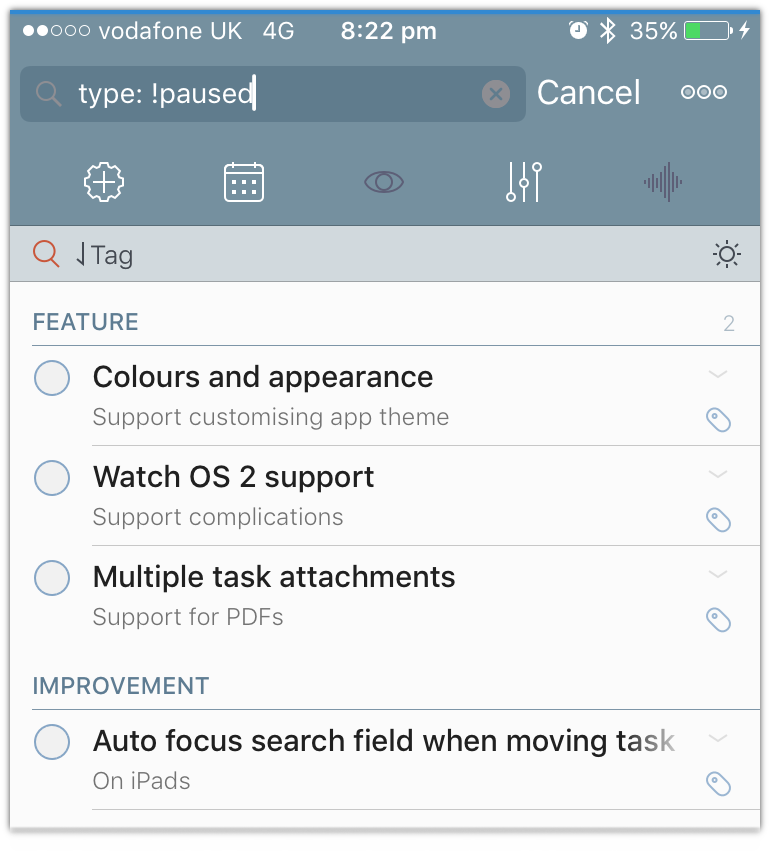 You may of course resume these tags at any time. It couldn't be simpler. Instead of creating a new Smart List out of every list you wish to exclude these tasks from, you can now pause as many tags as you like, and doing so will in effect put all associated tasks to a deep, ever-so-peaceful sleep.
Dec 19, 2015