2Do has spent the majority of its life within the Mac App Store. I've held back on exploring other distribution models (until recently) mostly due to the supposed headaches that come with managing a self-hosted store, but also because I felt the MAS would eventually cater for all our needs (free trials, volume discounts, paid upgrades, flexible licensing, Testflight beta testing and so on). That hasn't happened for such a long time. Deep down though, it feels as if this is the year they'll finally reveal a solid plan at the WWDC for all of those that don't believe subscriptions are a way forward (spoiler: they didn't). I say that, but if the last 6 years have been any lesson, I've begun to lose faith.
On the bright side, distributing 2Do on Setapp has been enlightening. It's not as rewarding as I had hoped it would be, but with close to around 1,300 active users a month, 2Do has taken a slow but steady start. These numbers should increase as the overall popularity and adoption of Setapp increases.
After years of rejecting requests for joining 3rd party app-bundles and campaigns, providing educational and bulk discounts, losing in on joining cross-campaign partnerships and more, I'm happy to announce 2Do finally has a brand new Store for direct distribution.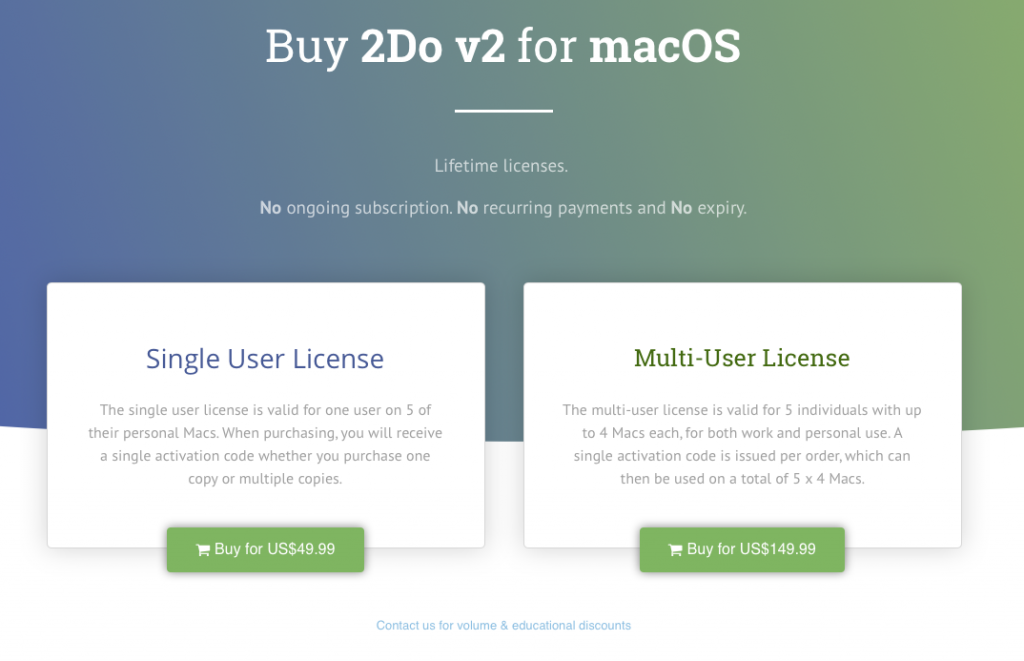 Users that have already purchased 2Do from the Mac App Store will be able to switch to the direct version, if they so wished, without a hitch. It should automatically detect their existing license. 2Do v2 updates will still be free of charge. Nothing should change for the end-user.
Other than providing me with more control over its distribution and licensing, the new Store and direct distribution will also play a big role in how automatic builds can be deployed to enthusiastic beta users. This wasn't possible until now. Needless to say, 2Do's direct distribution will also pave the way for paid upgrades in the future (one isn't in the works), considering 2Do has deployed close to around 50 free updates on the Mac in the last 6 years, and countless for iOS and Android for the past 9 years, without once asking its user to pay another dime. In hindsight, this isn't feasible nor sustainable, but neither is a subscription based model.
May 26, 2018