Many of you have been asking us whether the iOS 7 update is coming out soon. Actually, we want this update to happen ASAP, even more than you do. As it's been a while since we last published news regarding the current state of things, we felt it's time to share a little more information with you. Hopefully it'll make this 'wait' a little less frustrating and a little bit more revealing.
First, to be crystal clear on the current progress – 2Do 3.0 is nowhere near the finish line yet, and there is no ETA either. We are working day and night to bring you the best update we have ever done, but there are far too many battles to be fought in order to ensure there's no compromise made in any way or form. At this point, the majority of the underlying code is ready. The actual interface however is currently going through a review-and-dispose phase, where we experiment with a certain layout a few dozen times before throwing it out the window in favor for our next attempt. Given its current volatile state, we're currently not ready to show you anything as it has probably changed a couple of times already between now and the time you started reading this post. As soon as we've nailed something we're comfortable with, we'll reveal more – that's always been the case.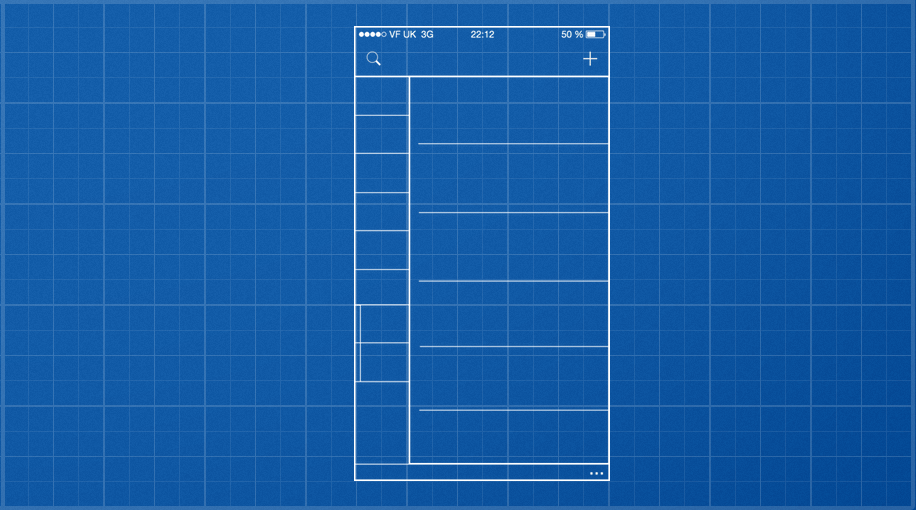 A Little Sneak Peek
To dig a little deeper into the black-hole portrayed above, we've actually completely redesigned the whole app. Not one part of it has stayed unchanged. But don't worry, you'll still feel right at home when you'll launch the update – this particular experience is what's taking so long to master. The tabs you love and use to quickly switch between lists are still there, but improved in every way possible. There's a lot less visual clutter, and they work really well for list names longer than, say, 9 characters! You'll now not only be able to pull and expand tabs intuitively in order to reveal more information, but will also be able to hide them using a simple gesture. Overdue counts on lists are no longer intimidating and ambiguous, instead they'll now form part of the expanded-tab view you'll soon grow to love. Oh, and to make it even more easier to organize your lists, we've introduced List Groups so that you're able to group together a related bunch of lists and sync these across to the Mac app.
We have also improved the way you add tasks to your lists. In addition to retaining the full add-a-task window, we now have a simple to use Quick Add option (without the need for adding yet-another-button on screen), something a lot of you have been asking us for years. You're in the zone and want to quickly dump your thoughts without having to tap [+] a few dozen times? We've got you covered!
We've also revisited the screens that allow you to add and edit your tasks. With 2Do it's always been about 'efficiency', i.e. trying to reduce the time it takes for you to get from A to B so that you spend that time on actually getting stuff done. We brought you tabs for easy context switching, and now we're bringing to you a quick and easy way to edit your tasks, especially the ones with lots of properties. There will be a new and improved way of switching between property editors (dates, times, alerts, recurrences etc) that will effectively shave off a good few seconds from your total workflow. Related properties (such as dates and times) will also now be grouped together in a more logical, organized way.
In addition to the above, we are going to introduce to you a new Tags list. After receiving wonderful feedback from our Mac users, we felt we could actually bring some desktop-class usability to our iOS apps. This way you will quickly and easily be able to filter your tasks by tags/contexts and drag and assign them to existing tasks and vice versa. Imagine the possibilities! The really tricky part though was to do this without distracting the user with needless screen options, or by introducing awkward new gestures – although a leftfoot-toe-double-tap-swipe-and-rotate was a pretty tempting and a surprisingly unused gesture in the public domain from what we gathered. The solution however turned out to be far simpler, an effortless single-hand pan and drag and you're in and out of tags at will. You'll love it when you see it.
We didn't stop there, though. We have routinely been taking every feature in 2Do apart to find out if we can make it more intuitive, easier to use and quick to execute so you can build extremely efficient workflows in order to get things done.
We realize you have waited for this update for a very long time and we truly want to make your wait worthwhile. Not only will this update be free for all existing users, we want you to know that it's not just a simple iOS 7 redesign – it's in fact an iOS 7 remake. An update worthy of being called a 'new app' is coming to you, we can promise you that.
Feb 2, 2014